Where can I find Floatee?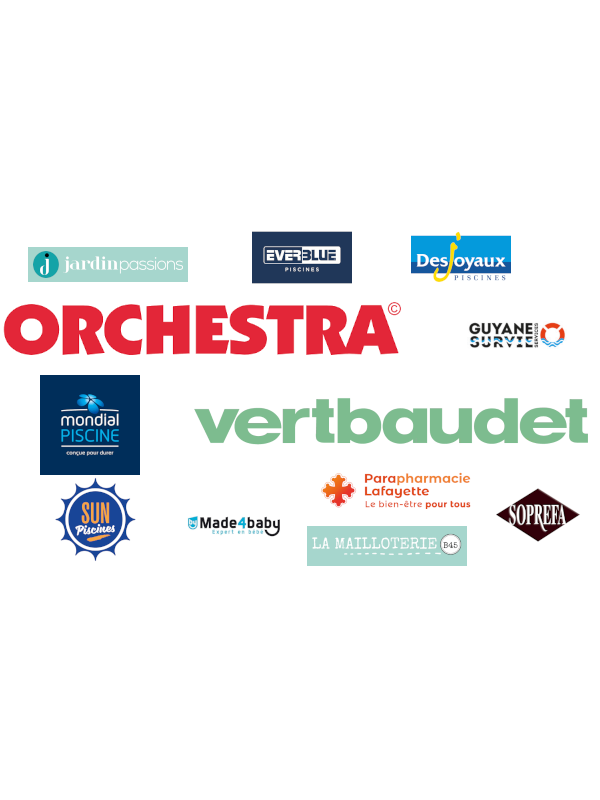 Through a distribution partner
We work with well-known chidcare brands, independent professionals and pool manufacturers to distribute Floatee in physical locations!
To find the closest store, you can consult our list of distribution partners (see below).
You want to distribute Floatee? Contact us and we'll answer you as soon as possible.
Contact us
Find a store
You can click and zoom on the map or directly consult the address list below the map.
Addresses of distribution partners
Francia - Occitanie

Haute-Garonne

Parapharmacie Lafayette (Toulouse) : 10 boulevard de Strasbourg, 31000 TOULOUSE
Orchestra (Saint-Orens) : 1 allée des Champs Pinsons, 31650 SAINT-ORENS-DE-GAMEVILLE

Gers

Maison Ligardes (Lectoure) : Route de Fleurance, 32700 LECTOURE

Tarn

Piscines Desjoyaux (Terssac) : Lieu-dit Rieumas, 81150 TERSSAC

Aude

Everblue - Art et Piscine (Carcassonne) : ZI de la Bouriette, 220 boulevard Gay Lussac, 11000 CARCASSONNE
Orchestra (Narbonne) : 4 avenue du Champ de Mars, 11100 NARBONNE

Pyrénées-Orientales

Orchestra (Perpignan) : route d'Elne, 66000 PERPIGNAN

Hérault

Orchestra (Saint-Aunès) : ZA Saint-Antoine, 200 rue des Tamaris, 34130 SAINT-AUNES
Made4Baby (Béziers) : 6 impasse de la Ginieisse, 34500 BEZIERS

Gard

Orchestra (Nîmes) : Family Village, 155 rue Paul Laurent, 30000 NIMES
Francia - Sud-Est

Var

Orchestra (La Valette du Var) : 300 avenue de l'Université, 83160 LA-VALETTE-DU-VAR
Francia - Grand Ouest

Bretagne (Finistère)

Orchestra (Gouesnou) : 143 rue Amiral Romain Desfosses, 29850 GOUESNOU

Loire-Atlantique

Piscine Design 44 - Mondial Piscine (Carquefou) : 8 rue Antarès, 44470 CARQUEFOU
SOPREFA (Orvault) : 23 rue L'Ouche Cormier, 44700 ORVAULT

Charente-Maritime

La Mailloterie 45 (Saint-Pierre-d'Oléron) : 45 rue de la République, 17310 SAINT-PIERRE-D'OLERON
France - Normandy

Seine-Maritime

Jardin Passions (Bois-Guillaume) : 3723 route de Neufchâtel, 76230 BOIS-GUILLAUME
Francia - Grand Est

Moselle

Orchestra (Moulins-lès-Metz) : 1 chemin de la Pie Grièche, 57160 MOULINS-LES-METZ
France - Burgondy, Franche-Comté, Auvergne-Rhône-Alpes

Jura

Aqua Design' - Mondial Piscine (Lons-le-Saunier) : 5 ZA de la Grusillonne, 39190 COUSANCE

Loire

Orchestra (Andrézieux) : 3 avenue Saint-Exupéry, 42160 ANDREZIEUX-BOUTHEON
France - French Guyana

Guyane Service Survie : 1 impasse des Apprentis, 97354 REMIRE-MONTJOLY
Sun Piscines : ZI Collery Ouest, 15 rue des Scarabées, 97300 CAYENNE
Belgium

FIVERCO - Mondial Piscine (Bois-de-Villers) : rue Raymond Noël, 41 / 5170 BOIS-DE-VILLERS